TOP 12 RESTAURANTS
IN 12 SOUTH NASHVILLE
I was eating in a restaurant downtown. There was a dish called Mother and Child Reunion. It's chicken and eggs. And I said, I gotta use that one. — Paul Simon
Possessing both a central location and a residential feel, 12 South is Nashville's hippest new neighborhood.
In addition to great boutique shopping, 12 South offers plenty to do and see for both residents and visitors.
Like yoga? 12 South is home to Nashville's only yoga studio certified in Iyengar yoga, a style specializing in the details of body alignment.
Want to spend some time outside? Head to Sevier Park, a green refuge in the middle of the urban jungle featuring tennis and basketball courts, numerous playgrounds, and even a historic 1840s mansion that once served as a hospital for wounded Confederate soldiers.
Hungry? 12 South is home to amazing restaurants offering an eclectic mix of cuisine and dining styles. With so much choice, you may find it hard to choose where to eat in 12 South!
To help, check out our Guide to the Top 12 Restaurants in 12 South.
1. Burger Up
2901 12th Ave S, Nashville, TN 37204
Founded in 2010, Burger Up prides itself on responsible meat consumption, sourcing only from local farms and butcheries that practice sustainability and the humane treatment of animals.
The menu is more extensive than you'd find at a normal burger place, featuring a variety of salads, appetizers like fried oysters, and delectable desserts like Krispy Kreme donut pudding.
All burgers are served with truffle fries and homemade condiments.
Image source: KJ Martinez
2. Edley's Bar-B-Que
2706 12th Ave S, Nashville, TN 37204, USA
One of the shining stars of the 12 South district, Edley's was voted Best in Bar-B-Que from 2013-2016 by the Nashville Scene Reader's Poll.
In addition to traditional fare like brisket sandwiches and ribs, Edley's also serves up a variety of tacos with a southern flair and weekend brunch favorites.
While most BBQ joints serve only beer and soft drinks, Edley's has a full bar offering signature cocktails like the Spiked Watermelon, and Bourbon Tea.
3. 12 South Taproom
2318 12th Ave S, Nashville, TN 37204, USA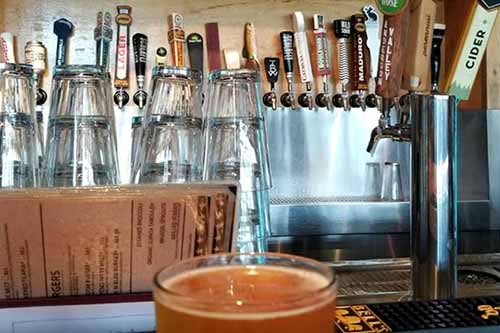 Featuring literally dozens of craft beers both on-tap and in the bottle, 12South Taproom just may be 12 South Nashville's best brewpub.
Their menu has something for everyone, with items like pulled pork tacos, their cheesesteak sandwich, and black bean quesadillas.
Even better, only the best organic produce and free-range meats are used.
4. Frothy Monkey
2509 12th Ave S, Nashville, TN 37204, USA
With a slew of awards from local magazines, breakfast till 5 pm, and in-house roasted coffee, it's easy to see why Frothy Monkey is so popular.
With weekly free, professional coffee tastings and an upcoming series of 5-course pairing dinners, Frothy Monkey is so much more than your typical coffeehouse.
Image Source: Frothy Monkey
5. Josephine
2316 12th Ave S, Nashville, TN 37204, USA
Putting a sophisticated spin on American classics, Nashville has been abuzz with talk of Josephine ever since it opened in 2013.
Don't miss the Josephine Whole Chicken for two or the buffalo cauliflower.
Josephine also offers a weekend brunch with signature cocktails, and menu items like cherry and pistachio sticky buns, and goat cheese quiche.
Image Source: Cary Ryan
6. Bartaco
2526 12th Ave S, Nashville, TN 37204, USA
Inspired by beach culture, Bartaco is famous for its exotic tacos with varieties like shrimp banh mi, duck with tamarind glaze, and falafel.
Not a taco lover? Not to worry. Bartaco also has other delicious options like ceviche, tamales, and pork pozole.
Image Source: David Breen
7. Mafiaoza's Pizzeria and Neighborhood Pub
2400 12th Ave S, Nashville, TN 37204, USA
Serving authentic New York Italian food for over a decade, Mafiaoza's is a Nashville institution.
You can't go wrong with the build your own antipasti platter or any one of their 20 specialty pizzas.
Open until 3 am, Mafiaoza's is also a great place to hang out, with an extensive beer, wine, and cocktail menu.
8. Five Daughters Bakery
1110 Caruthers Ave, Nashville, TN 37204, USA
Family owned and operated by Stephanie and Isaac Meek along with their five daughters, Five Daughters Bakery offers a variety of delectable baked goods.
All made without chemical preservatives, GMOs, or artificial flavors and colors.
Their claim to fame is the 100 Layer Doughnut- a cross between a croissant and a doughnut- and comes in more than ten rotating flavors.
For the health conscious, they offer paleo donuts (free of grains, gluten, dairy, and sugars), as well as a variety of vegan donuts.
  Image Source: 5 Daughters Bakery
9. Epice
2902 12th Ave S, Nashville, TN 37204, USA
Praised in magazines like Travel + Leisure and Bon Appetit, Epice is a destination for serious foodies in 12 South Nashville.
Serving up delectable Lebanese food, can't-miss items include Shakshukah - oven baked eggs with a spiced tomato hash - and Knefah, a dessert made of sweet cheese, shredded filo, and pistachios.
  Image Source: Epice
10. Embers Ski Lodge
2410 12th Ave S, Nashville, TN 37204, USA
Inspired by the camaraderie of apres-ski, Embers Ski Lodge will have you feeling you're in Aspen instead of in the middle of the 12 South district.
With an extensive cocktail menu and the largest selection of whiskey in Nashville, Embers is the perfect place to meet friends and family for a drink.
If you're hungry, there's also a full menu featuring both traditional pub fare and a variety of seafood options.
  Image Source: Nick Cheech
11. The Flipside
2403 12th Ave S, Nashville, TN 37204, USA
Can't get enough chicken? Then look no further than The Flipside, which serves it up pounded thin, breaded, and deep-fried, topped in one of 21 ways!
Interesting preparations include the Primo (pesto, tomato, and mozzarella) and the Mac Daddy, topped with chili and mac 'n' cheese.
That and other diner classics like shakes, floats, and tater tots are all served up in a fun, retro, 50s diner setting.
  Image Source: The Flipside
12. Urban Grub
2506 12th Ave S, Nashville, TN 37204, USA
Casual yet elegant, Urban Grub specializes in seafood, flown in fresh daily and never frozen.
Be sure to try dishes like oysters on the half-shell, lobster BLT flatbread, and shrimp and grits.
For you carnivores out there, Urban Grub offers a variety of house-made charcuterie boards and has a meat curing room on-site where steaks are dry aged for a minimum of 20 days.
  Image Source: Beverley Van Boven
CHECK OUT SOME OTHER POPULAR LINKS
Check out these other popular links
Additional Resources if You're Moving to Tennessee
Searching for a house can be both exciting and stressful. Here are online resources to help you plan your move.
YOU MAY ALSO ENJOY THESE OTHER RELATED ARTICLES