WHO ARE THE BEST REAL ESTATE AGENCIES IN TENNESSEE?
TOP BROKERAGES REVIEWED & RATED
Casey Brown – Jul 28, 2017
Real estate brokerages differ in their focus, experience, aptitudes, technology, and support. Deciding which agency to work with is a challenge.
Real Estate Statistics
Did you know that there are over 1,000 real estate firms and more than 16,000 agents serving Middle Tennessee?  
That's a lot. And considering they all have very different focuses, experience, aptitudes, available technology, and support, it can be challenging to decide on which real estate agent will do the best job for you and your family.  
Choosing a Real Estate Brokerage: Make an Informed Choice
Buying and selling your home is most likely the most important transaction you'll be a part of. It would be an understatement to say you want to be sure you're well-informed and well-represented.  
But, given that you will probably buy fewer than 5 properties in your life, the experience needed to make an educated decision on which firm to select is, naturally, limited.  
Fortunately, we have the history and experience to help you decide.  Each year we represent our clients in more than 4,000 residential real estate transactions in Middle Tennessee and continually negotiate and transact business with a large cross-section of area firms, big and small.  
All these successful closings provide us with keen insight on working with some of the best of Middle Tennessee's many real estate firms.  
While we would love nothing more than to earn your business, we also want you to be well-informed and hope this list of top performing firms in Middle Tennessee will help you in your search for the firm that best fits your needs.
Tennessee has over 1,000 real estate agencies and more than 10,000 agents regionally.
Buying and selling your home is most likely the most important transaction you'll be a part of. Be sure you're well-informed when choosing which real estate firm to work with.
Keller Williams
Keller Williams is one of the largest real estate firms in the world and they're known for their focus on agent training and education.
Gary Keller, founder and best-selling author, is often quoted describing KW as "a training and coaching company that also happens to be in the business of real estate."
Here at Reliant Realty ERA Powered, many of our agents started their careers with KW and arrive at our firm with a greater base of knowledge and best practices because of it.  
With a passion for training and the immense resources to drive that vision, chances are your KW agent has devoted more time to learning how to better represent their clients than the average agent and that is a great place to start.
Keller Williams also scores highly on savvy marketing tools and proprietary technology.
FINDING A BROKERAGE:WHAT TO LOOK FOR Reliant Realty ERA Powered Team – May 23, 2017 Looking for higher commissions and less fees? Need better support & lead platforms that are comprehensive and relevant? ...
Read More

→

The Ashton Real Estate Group of RE/MAX Advantage
Under the leadership of Gary Ashton, The Ashton Real Estate Group of RE/MAX Advantage has climbed the rankings and become one of the top teams in Nashville and Middle Tennessee.  
Gary's real estate career began in 2001 and he quickly became part of the top 1% of REALTORS ® in the country.  Over the next 16 years, Gary has focused on maintaining a strong internet presence and delivering high volume leads to his team of 80 agents.  
The Ashton Real Estate Group of RE/MAX Advantage is the official real estate team for the Tennessee Titans as well so, as far as online exposure is concerned, they round out at or near the top of the market.
Looking for contact information or listings for a Reliant Realty Agent? Find the information you need by using our convenient Agent Roster page.
REMAX Elite
RE/MAX, short for "Real Estate Maximums", opened its first office in 1973. Since then, the company has expanded to more than 100 countries and more than 100,000 sales agents.  
Collectively, RE/MAX is regarded as one of the country's most productive real estate brands, claiming to "average three times the production and more advanced industry education than other agents".
RE/MAX's story begins with trailblazing new directions in industry technology and communication, spurred on by the emergence of the internet.  They were the first brand to expand their reach to the global market with their global listing site which now lists properties from more than 80 countries.
Their focus on customer satisfaction is excellent which leads them to enjoy an industry-leading rate of repeat and referral business, with RE/MAX Sales Associates averaging 70 percent of their business from repeat clients and referrals.
Moving to Tennessee?
Crye Leike
Established in 1977 and franchised in 1999, Crye Leike has grown to over 3,000 agents in more than 120 Offices.  
Crye Leike is a powerhouse in our region, churning out over 32,000 transactions and 6.3 billion in transacted business last year alone.  That's good enough to rank them as the 5th largest private real estate firms in the nation.
While other firms focus on one segment of real estate, Crye Leike offers the full spectrum of representation, including: residential, relocation, commercial, business brokerage, property management, REO management, mortgage lending, insurance, title & closing, home vendor referrals, auctions, rentals, franchise sales, and home builder services.  This truly sets them apart from the competition.
When dealing with Crye Leike, you can be sure your agent and office know the market.  The founders, Harold Crye and Dick Leike adhered early on to a "real estate is local" vision, creating a unique corporate structure which provides multiple regional headquarters to better serve their respective regions.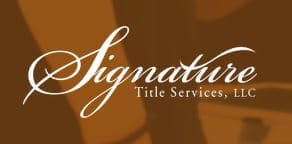 Signature Title Services
The most important step in closing a real estate transaction is title transfer. Visit Signature Title Services' "Title Services" information page for a primer on how the process works. 
Parks
Bob Parks created a true homegrown real estate operation that competes on the national level.  
With over 42 years of local operation in 12 offices across Nashville and Middle Tennessee, Parks has climbed the national rankings to #85 in Real Trends Top 500 and #32 out of the top independent firms in the U.S., closing over 2 billion in volume last year alone.  
All firms promote character and culture, intentionally or not, but none do it better than Parks.  Racking up accolade after accolade for good reason, Parks recently was named #1 Residential Brokerage by the Nashville Business Journal in 2015 & 2016 and Voted #1 Top Work Place by the Tennessean in 2016.  
Their dedication to the communities they serve is evident in their philanthropic initiatives, with more than $90,000 contributed to Make-A-Wish Middle Tennessee in 2016 and over 11,000 service hours and $184,000 supporting Middle TN Charities in 2015.  
Village Real Estate Services
Founded by Mark Deutschmann in 1996, Village Real Estate Services now employs over 250 agents and staff.
Mark believes that 'the Core is the New Edge' and that more people will choose urban living and greater density given current world trends.  
Beyond a focus on downtown real estate, Village "strive to sharpen our skills by implementing new approaches as we pursue our business and social objectives" and aim to build "stronger, more progressive communities".
If it's the inner loop of Nashville that you're interested in, nobody centers more of their professional efforts on that portion of our city than Village Real Estate Services.  
In fact, Mark has sold over 1,000 homes in the Hillsboro Village and 12 South Neighborhoods, and 27 condo/loft/cottage projects, including The Icon, The Enclave, Bristol West End, and Gale Park.
Mark and Village are also very active in community projects and charitable ventures, making Nashville and Middle Tennessee an even better place to call home.
Life in the Hillsboro and 12 South Neighborhoods
Coldwell Banker Barnes
With 50 years of local operation under their belt, Coldwell Banker Barnes and their family of firms, including Coldwell Banker Real Estate Now, Coldwell Banker Snow and Wall and Coldwell Banker Commercial, are a well-established fixture in Middle Tennessee.
With the Coldwell Banker brand under the Realogy franchise umbrella (the largest franchisor of residential real estate) you can rest assured they are properly supported and on the cutting edge of emerging technology relevant to today's client.  
Coldwell Banker Barnes offers a wide array of services, which include residential services, mortgage lending services, commercial services, relocation, and auction.  
With five decades of experience, a large footprint across Middle Tennessee and all the offerings, you can trust Coldwell Banker Barnes to deliver thorough and quality service.
What is "Middle Tennessee"?
What exactly is "Middle Tennesee?"  Click on the button below to see which counties make up Western, Middle, and Eastern Tennessee.  Read about Middle Tennessee, the region we proudly call home, on Wikipedia.
Christianson Patterson Courtney & Associates
Christianson Patterson Courtney & Associates, while smaller in roster size than others on this list, is big on production and quality of agents.
Under the leadership of Ellen Christianson and with the support of her well-respected agents and team, Christianson Patterson Courtney & Associates is known for their high-end homes expertise.
With industry leaders like Richard Courtney and Tommy Patterson rounding out an impressive roster, you can be sure you're in good hands.  
Nobody tops the experience and knowledge Ellen, Tommy, Richard and their team possess.  Not only are they well educated and experienced, they're also well connected and, if you're a member of their team, you have a good chance at meeting some very important people at their sales meetings, including Mayor of Nashville, Megan Barry.
Check out nashville.gov to meet Megan Barry on the "Mayor's Page" and learn about the Metro Government of Nashville & Davidson County, Tennessee.
Century 21 Premier
Another firm that enjoys the support of the massive Realogy franchise system, Century 21 Premier has access to cutting edge technology, training, and systems.  
Century 21 as a brand is one of the largest and best-known brands in the world and has been ranked "Highest Overall Satisfaction for First-Time Home Sellers, First-Time Home Buyers, Repeat Home Sellers, and Repeat Home Buyers (tied in 2016) among National Full Service Real Estate Firms" in the J.D. Power 2016 Home Buyer/Seller Satisfaction Study.
With education, marketing, and agent support major priorities, Century 21 Premier closes our list and should be on your list of firms to consider when deciding on who you wish to work with.
Popular Links
We hope this review was helpful in shedding some light on the real estate market in Middle Tennessee. 
Here are some popular links most visitors find useful when searching for real estate in Tennessee.  
Additional Resources if You're Moving to Tennessee
Searching for a house can be both exciting and stressful. Here are online resources to help you plan your move.
YOU MAY ENJOY THESE OTHER RELATED ARTICLES